502 WASHINGTON AVENUE - SUITE 605
TOWSON, MARYLAND 21204
410-659-9550

94 NAROD BOULEVARD
WATER MILL, NY 11976
631-237-4891
larry@guffeylaw.com

Senior Patent Counsel
OLIVER & GRIMSLEY, LLC
443-541-5680

"Maximizing the Returns on Your Intellectual Endeavors"
---
[ Main Page ] [ Firm Profile ] [ IP Resources ] [ MD Attorney Resources ] [ MD Entrepreneurial Links ] [Recently Published Papers]
[ Process for Obtaining a U.S. Utility Patent ] [ The U.S. Trademark Registration Process." ] [ The U.S. Copyright Registration Process ][U.S. National Phase of a PCT International Patent Application]
---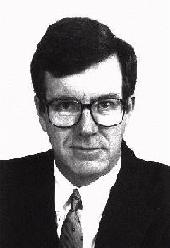 Biographical Sketch:
LARRY J. GUFFEY
Larry J. Guffey is a patent law practitioner and former senior manager in the industrial products industry. As such, he has a uniquely broad background that provides him with insight into the technical, business, legal and strategic challenges facing technology-oriented entrepreneurs.
Mr. Guffey provides legal services that concentrate on enabling his clients to build their businesses by growing, protecting and managing, in the most cost-effective manner, their intellectual property portfolios, concentrating primarily on patent matters, but also including trade secret, trademark and copyright matters. His particular areas of technical expertise are in the fields of fluid dynamics and mechanical engineering as applied to a broad range of manufacturing technologies.

His clients include both U.S. and foreign research universities, manufacturing, service and e-Commerce companies, and a wide variety of individual inventors, artists and entrepreneurs.
He began his industrial career at Owens Corning where he quickly became a R&D manager with responsibilities for strategic planning, including monitoring the patent portfolios of business competitors. He went on to enjoy a broad and successful management career (i.e., Technical Director of the Glass Fiber Division, Evanite Fiber Corporation, Vice President of Research & Development for the Evanite Fiber Corporation and Chief Operating Officer of GFT, Inc.) that was aided by his extensive knowledge of the patent literature. In 1990, he left the corporate world in order to pursue a career in patent law, first as a patent agent and since 1995 as a patent attorney.
Mr. Guffey is a graduate of the University of Virginia (B.S. Aerospace Engineering), the Johns Hopkins University (M.S. in Engineering and satisfaction of all the requirements for a Ph.D. degree in Fluid Dynamics, except the dissertation) and the University of Houston Law Center. He is a member of many professional associations, including the Maryland and U.S. Patent & Trademark Office Bars, the American Intellectual Property Law Association, the Intellectual Property Law Section of the American Bar Association, and he is the Vice Chairman of the Intellectual Property Law Committee of the Maryland State Bar Association.
His recent publications include: "

Patent Protection For Computer Software," May 1998

MD Bar Journal, pp. 54-57; "Business Method Patents," Practical Legal Issues In e-Commerce Seminar, MICPEL Publication, February 2000; "Business Method Patents: What Are They & Why Should My Clients, Especially Service Providers, and I Care?

"

July 2000 MD Bar Journal, pp. 24-29, and "The Language of Patent Law," Guest Lecture at Univ. of MD Law School, September 7, 2000.
---
[ Main Page ] [ Firm Profile ] [ IP Resources ] [ MD Attorney Resources ] [ MD Entrepreneurial Links ] [Recently Published Papers]
[ Process for Obtaining a U.S. Utility Patent ] [ The U.S. Trademark Registration Process." ] [ The U.S. Copyright Registration Process ][U.S. National Phase of a PCT International Patent Application]
---